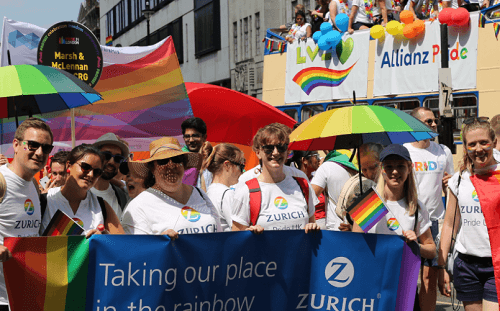 We don't know exactly how many insurance companies exist in the world… but this we do know: Zurich is the first and, so far, the only insurer that has made it to Stonewall's 'Top Global Employers' list.
Through its annual roster, the lesbian, gay, bisexual, and transgender (LGBT) equality charity commends organisations' pioneering efforts to create inclusive workplaces and advance equality for LGBT staff. It is compiled from submissions to Stonewall's Global Workplace Equality Index, which is a benchmarking tool for employers.
The insurer, which spearheaded the launch of the Inclusive Behaviours Pledge along with Lloyd's of London, has a global LGBT network in place called Pride@Zurich. In the UK, Zurich colleagues recently took part in the Pride parade in London (pictured).
"We're delighted to be part of Stonewall's Global Workplace Equality Index which recognises the progress we've made to become a more inclusive employer, welcoming people from different backgrounds and valuing the contribution they can make to our industry," commented Zurich UK's head of HR Steve Collinson.
"We know that the LGBT community is an integral part of life inside and outside of Zurich," he said. "As an insurance company we touch the LGBT community in many ways, as customers, shareholders, friends and family, but primarily as colleagues, many of whom proudly supported this year's London Pride taking their place in the rainbow parade."
Aside from Zurich, the other companies in the seventh edition of Stonewall's Top Global Employers are Accenture, Allen & Overy, Baker McKenzie, Barclays Plc, BP, Dentons, Herbert Smith Freehills LLP, Pinsent Masons, Royal Bank of Scotland, SAP, Simmons & Simmons, and Vodafone Group Plc.
"It's massively important to us that we continue to create an environment of respect and understanding for LGBT people at Zurich by developing policies and practices that encourage inclusion for everyone," added Collinson. "It's the right thing to do and helps us generate diversity of thought, innovative solutions, and higher levels of engagement in our employee base.